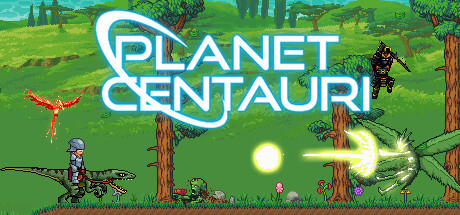 If you are a fan of sandbox RPG games and love exploring endless worlds filled with mysteries and adventures, then Planet Centauri is the perfect game for you. Developed by French indie studio, Permadeath, this pixel art game is a mix of various genres, including adventure, fantasy, crafting, and simulation. Released in June 2016, Planet Centauri has been steadily gaining popularity among gamers who enjoy creative gameplay and endless possibilities.
The Storyline
The game is set on a planet called Centauri, which has been struck by a catastrophic event caused by the titan Yrilik. As the sole survivor of the planet, you are tasked with rebuilding the world and restoring peace to the land. But you are not alone in this journey. Along the way, you will encounter various friendly NPC characters who will assist you in your quest.
Gameplay Features
One of the main highlights of Planet Centauri is its gameplay, which allows players to use their creativity and imagination to build and explore the world. The game features a vast and diverse environment, consisting of different biomes, including forests, deserts, and snowy mountains. You can gather resources, craft materials, build structures, and even capture and tame creatures to aid you in your journey.
The game also has a day-night cycle, where in-game time passes, and different events and challenges occur at specific times. You can also customize your character's appearance, equipment, and skills to adapt to various situations and overcome obstacles.
Crafting and Building
Crafting is a crucial aspect of Planet Centauri. You can gather resources by mining, fishing, hunting, and farming. These resources can then be used to craft weapons, equipment, and structures. The crafting system in the game is extensive, and you can craft over 900 items, including furniture, vehicles, and even magical spells.
Building is another exciting feature of Planet Centauri. You can build anything from a simple cottage to a massive castle, using the variety of materials available in the game. The possibilities are endless, and players have created some impressive structures using their imagination and creativity.
Multiplayer Mode
Planet Centauri also offers a multiplayer mode, where you can team up with other players to explore the world together and build cooperatively. You can also trade resources, items, and even challenge each other to duels.
Graphics and Sound
The game's 2D pixel art graphics give a retro feel and beautifully captures the essence of the game. The colors are vibrant and the environment is full of little details, making the world feel alive. The sound effects and music in Planet Centauri complement the gameplay and add to the immersive experience.
Final Thoughts
In conclusion, Planet Centauri is a visually stunning and addictive game that offers endless opportunities for exploration and creativity. The game has received positive reviews from both critics and players alike, and the developers are constantly updating and adding new features to the game. So, if you are a fan of open-world sandbox games with a touch of fantasy, then Planet Centauri is definitely worth checking out.
Quote by Game Designer: "Our goal with Planet Centauri was to create a game that could appeal to a wide audience by offering both creativity and challenges, and it's truly amazing to see players enjoying the game and creating their own unique experiences."
If you haven't tried out Planet Centauri yet, you can purchase it on Steam or through the official website. So, gear up and get ready for an adventure of a lifetime on Planet Centauri!
System Requirements
Minimum:
OS: windows vista 64 bits

Processor: DualCore 2GHz

Memory: 2 GB RAM

Graphics: Card with 256MB and support Shader Model 1.3

Storage: 400 MB available space

Sound Card: /
How to Download
Click on the direct "Download" button link given above.
A pop-up window may appear asking you to either open or save the file. Click on "Save" to save the file to your desired location.
Wait for the download to complete.
Once the download is finished, navigate to the folder or location where you saved the downloaded file.
Double-click on the downloaded file to start the installation process.
Follow the on-screen instructions to complete the installation.
Once the installation is finished, the "Planet Centauri" game will be ready to play on your device.