| | |
| --- | --- |
| Title | Skelattack |
| Developer(s) | Ukuza, Inc. |
| Publisher(s) | KONAMI |
| Release Date | Jun 2, 2020 |
| Size | 721.72 MB |
| Genre | PC > Action, Adventure, Indie |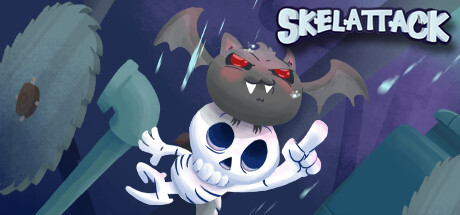 Skelattack is a unique game developed by Ukuza Inc. and published by Konami Digital Entertainment. It was released in June 2020 and is available on multiple platforms such as PlayStation 4, Xbox One, Nintendo Switch, and PC. The game follows the story of a skeleton named Skully and his sidekick, a bat named Imber, as they defend their underworld home from invading humans.
Gameplay
Skelattack is a 2D platformer with a charming and whimsical art style. The game is set in a colorful underworld filled with creatures such as skeletons, bats, and ghosts. As the player, you control Skully, who is armed with a trusty sword and shield. Skully can not only attack enemies with his sword but also parry incoming attacks with his shield.
The game is divided into different levels, each with its own unique challenges and obstacles. The levels are well designed and require the player to use their platforming skills to progress. You can also find hidden areas and collectibles scattered throughout the levels, adding to the replayability of the game.
In addition to platforming, Skelattack also has a combat element. Along with using his sword and shield, Skully can also use various elemental magic attacks to defeat enemies. These attacks are unlocked as you progress through the game, adding more variety to the gameplay.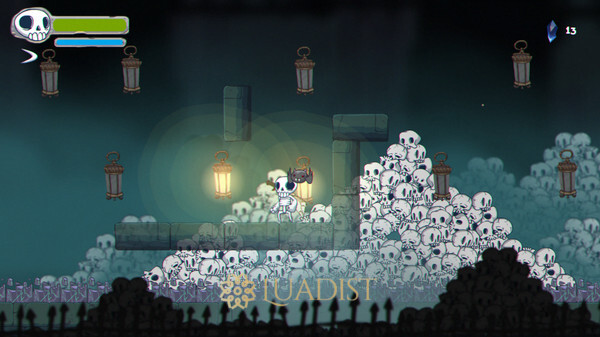 Storyline
The game's story is simple yet heartwarming. The human kingdom above the underworld has been attacking the peaceful creatures of the underworld, including Skully's home, the Aftervale. Skully, with the help of his trusty bat friend Imber, must defend his home from the invaders and uncover the truth behind the attacks.
The game's narrative is told through humorous dialogue and charming cutscenes. Skully and Imber's banter and character development give the game an endearing quality that keeps players engaged in the story.
Music and Art
Skelattack's art and music are two of its standout features. The game's art has a hand-drawn, watercolor-like aesthetic that gives it a unique and enchanting look. The colorful backgrounds and character designs add to the game's whimsical atmosphere.
The music in Skelattack is composed by Dale North and is the perfect accompaniment to the game's art and gameplay. Each level has its own soundtrack, adding to the sense of progression and variety in the game. The music is lighthearted and catchy, making it a joy to listen to as you play.
Overall Impressions
Skelattack is a fun and charming adventure game that offers a unique twist on the classic 2D platformer genre. The game's mix of platforming and combat, along with its adorable characters and beautiful art and music, make it a delightful experience for players of all ages.
Skelattack proves that even in the underworld, there is room for charm and lighthearted fun.
Whether you're a fan of platformers or just looking for a delightful gaming experience, Skelattack is a game that should not be missed. So grab your sword and shield, and journey into the Aftervale to defend it from the human invaders in this charming adventure game.
System Requirements
Minimum:
OS: Windows 8.1+

Processor: Intel Core i3

Memory: 4 GB RAM

Graphics: GeForce 9800GTX+ (1GB)

DirectX: Version 10

Storage: 1 GB available space

Additional Notes: 1920 x 1080 monitor
Recommended:
OS: Windows 10

Processor: Intel Core i5

Memory: 4 GB RAM

Graphics: GeForce GTX 560+

DirectX: Version 10

Storage: 1 GB available space

Additional Notes: 1920 x 1080 monitor
How to Download
1. Click on the
tag with the direct "Download" button link given above. 2. A pop-up window may appear asking for permission to download the game. Click "Allow" or "Download" to continue. 3. Once the download is complete, click on the downloaded file to begin the installation process. 4. Follow the on-screen instructions to install the game. 5. Select the location where you want the game to be installed and click "Next". 6. Review and accept the terms and conditions, then click "Next". 7. Choose any additional features or options you may want for the game and click "Install". 8. Wait for the installation process to finish. This may take a few minutes. 9. Once the installation is complete, a pop-up window may appear asking if you want to create a shortcut for the game on your desktop. Select "Yes" or "No" according to your preference. 10. The game should now be installed on your computer and ready to play. You can access it from the shortcut on your desktop or by searching for it in your computer's programs.